Thank You!
To the TrailBlazers for the honor of being inducted to your Hall of Fame during your 75th Anniversary.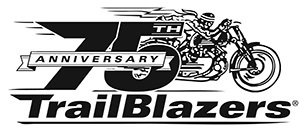 Congratulations TrailBlazers on this important milestone!
To the many great individuals, groups and organizations who have provided me with so many incredible opportunities and support throughout my career. I have been truly blessed for the many friendships, chances to work with such talented individuals, and to enjoy so many experiences around the world.
I have so many people to thank for their advice and support that it wouldn't be fair to the audience or individuals to try to do it during the ceremony.
From the bottom of my heart, thank you all for the opportunities, guidance, support and friendship over the last 50 years.
Mark Blackwell

On the occasion of being inducted into the TrailBlazers Hall of Fame during their 75th Anniversary, it feels like a perfect time to reflect on my past 50 years and say thank you to the many people who have helped me along the way:
The Early Years:
Wilke Adolphson
Stan, Andy & Team at American Jawa
Bell Helmets​​​​​​​
Tom & Mary Ann Berkley​​​​​
Everett Brasher
Champion Spark Plugs
Eddie Crowell & Team – Crowell's Cycle
Roger DeCoster
Mr. Edison Dye ​​​​​​
Don Emler​​​​​​​
Bengt Farnstrom
Brian Farnsworth​​​​​​
The Grossi Family
Torsten Hallman​​​​​​
Mr. Bror Jauren
Brad & Lori Lackey
Lars Larson
​​​​Gunnar Lindstrom
Larry Maiers, ​​​​​Hi-Point Racing
Whitey Martino​​​​​​
Dick Miller​​​​​​​
John Moore & Moore's Cycle​​​​​
Mr. John Penton & Family
Ralf & Scuderia
Larry Soppe & Valerian's ​​​​​
​​​​​​Rolf Tibblin
Elon Windisch
Transitioning From Racer:
Pat Alexander
AC Bakken
Scott & Kathy Boyer​​​​​​
Gary Bryson​​​​​​​
Dick Burleson​​
Joe Colombero
Sven Erik Eklund
​​​​​​Bob Elliot
Bob & Jeff Fox​​​​​​​
Goodyear Tire​​​​​​​
Aki Goto
John & Rita Gregory​​​​​​
Larry Grismer & Carlsbad Raceway
Bo Johansson
Leif Johansson
Bill Knigge​​​​​​​
Tosh Koyama
PG Larsson
Jimmy 'Mac' McIlvain​​​​​​
T. Miyashita
Bob Popiel​​​​​​
Scott USA
Hideaki Sezaki​​​
Tadaomi Shigenoya
​​​​​​​Mr. Yokouchi
National University
Pepperdine University
Public Corporate Life:
Greg Brew
Tim Buche
John Corness
Mike Dapper
Gary Gray
Ed Heffernan
Allan Hurd
Mike Malone
MIC Board & Leadership Teams
Bennett Morgan
Arlen & Cory Ness & Family
Greg Palen
Robert Pandya
Bob Pecks
Polaris Industries HR, Industrial Design, Engineering, Manufacturing & Supply Chain Teams
Steve Smith
Derek Scott
Michael Song
Stacey Stewart
Tom Tiller
Hall Wendel
Jeff Wolf
University of Minnesota, Carlson School
University of Pennsylvania, Wharton School
Post Corporate Life:
Jon Erik Burleson
Dan Feller & The Plaudit Design Team
John Hinz
KISKA
KTM & Husqvarna Motorcycles
Gerald Kiska
Steve Masterson
The USMCA Team & Certified Coaches
Northwestern University, Kellogg Executive Scholars Program
Throughout This Journey:
Jack & Shirley Blackwell
(in body & Spirit) Thanks For Your Support & Encouragement, And Believing In What Motorcycling Could Mean To My Life
Patti & Brett Blackwell
Thanks For Putting Up With Me (It's not easy, I know…)
Greg & Amy Blackwell
Lori & Bill Hartfield & Family
Bill & Nancy Sims
Ken & Laurie Boyko